1. Semi-naked
It is no surprise that Semi naked cakes have made the list as I am sure you have come across this design many times as it has been in trend for some time now. It is safe to say that this is a design many couple of would pick as it ties in well with the popular outdoor/barn themed weddings that are common.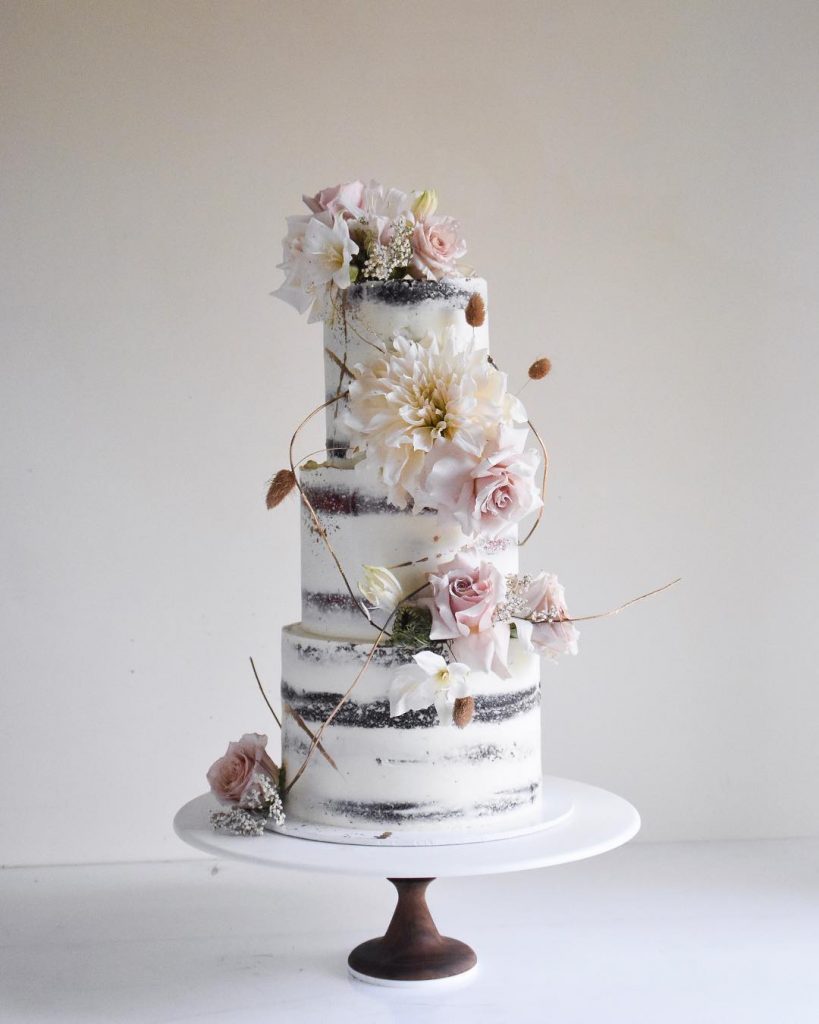 Semi-naked cakes are very simple but can be decorated to look elegant with beautiful flowers and it truly opens the door to any colour combination. So, if you're someone that prefers simplicity and don't have a specific style preference this is always the safest and cheapest option to pick.
2. Textured
Textured cake designs are a recent trend that is taking over the world of cake decorating and it has really opened up my imagination as a cake designer. This is hands down my favourite trend and I am sure this is only going to take off even more in the next couple of years to come.
Textured designs can be done from a variety of options such as buttercream, fondant and ganache which range in price. This is mainly due to the cost involved with acquiring the raw ingredient and of course the increasing difficulty level for using each of the 3 options as buttercream often being the easiest option to handle.
3. Modern art
With the modern times, come the modern art work and cakes are basically art. So, of course it is no surprise to see some amazing cake designers creating some beautiful work that blows your mind. Whether it has a more simplistic approach or an extravagant feel, it is created to make you question how much talent can be possessed by one person to create something so fabulous.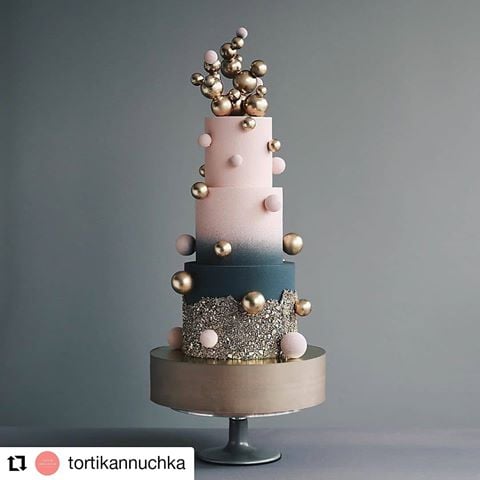 There's only one thing left to say about this trend. It is DEFINITELY high end so it will be very expensive but what do you expect? Anyone who has the talent to create these beautiful pieces earn every right to charge whatever they charge.
4. Extravagant florals decorated
Flowers on wedding cakes is obviously no surprise to anyone! But, in recent times couples have been venturing out into colours other than the simple go to "white and peachy" look. This is definitely on the positive side for me as a cake designer because I LOVE a good range of beautiful colours of florals to work with. It truly excites me to the point of jumping up and down with joy when a couple chooses to get out of the comfort zone!!!
Beautiful floral designs are mostly accompanied with buttercream and ganache cakes but this opinion may be a little bias as I am not a huge fan of using real flowers on fondant cakes. However, I am completely aware of some amazing cake designers who put together beautiful fondant cakes with amazing fresh flower arrangements. So, in conclusion whatever cake you decide to go with doesn't matter but please pick some gorgeous colours for the florals.
5. Minimalistic
This is definitely becoming a recent trend that couples are becoming very excited for as it can capture your heart in a way that most cakes don't. What I can be certain of is that many cake designers don't feel comfortable with this minimalistic theme unless they specialise in it. I am not saying that these designers like me are not capable of making them but it is the mindset that makes the process harder because you have very limited options for decorations.
As someone who enjoys adding decorations on cakes, I often force myself to stop so I don't overcrowd the cakes so to be doing a cake with minimum to no decorations will definitely leave me blank…
6. Dark theme
Something that you normally don't expect for a traditional wedding cake. When you think of a wedding, it is basically a tradition to have a wedding cake but it's the modern age now. We got to snap out of that 'traditional' mindset and I am glad to see some couples getting the courage to go out of that little circle created by the society.
This Dark or more so black cakes are often accompanied with touches of gold or silver leaf to add a feel of elegance and they will definitely wow the guests. Having a dark wedding cake doesn't mean the bride will wear a black dress but it only means that the wedding cake will look spectacularly gorgeous and probably take up everyone's phone storage after taking too many pictures.
By Ruwi's Cakes
—————————-
Ruwi is a passionate cake designer with many years of experience in the cake industry. She loves creating beautiful wedding cakes for her clients because being part of a such a special moment in someone's life is an unforgettable experience. When she's not making cakes, she will either be lifting weights or drawing.